Within the business environment and the wider social landscape of today, the word "business" has acquired an ever-larger and more global meaning. English has become the universal means of communication.

A professional background and new communication channels require specific communication skills (correspondence, negotiating skills, meetings, presentations, informal conversation and similar), where language skills are but one of the prerequisites. To meet these new needs and today's demands, we have developed a special method of teaching foreign languages, specialising in and focusing on the business world, and targeting adults.

Modern day language teaching includes therefore, much more than grammar and vocabulary exercises offered by most standardised courses.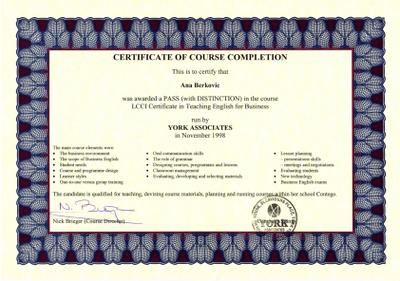 Ana Berković Crnković, the school director, holds a university degree in English and Russian and is a well-experienced teacher. While attending a postgraduate study in glottodidactics at the Zagreb Faculty of Arts, the subject of her special interest were cognitive styles and learning and teaching strategies for adults aimed at understanding individual strategies and optimum load, and overcoming the fear of learning foreign languages.
Ana Berković Crnković was awarded a diploma in teaching English for business by the London Chamber of Commerce and Industry. Language training programmes offered by Contego are acclaimed by York Associates, an English school of business.
Contego programmes and levels comply with the Recommendation of the European Council published in the "Common European Framework of Reference for Languages". Each year Contego teachers attend BESIG, international conferences targeting business language.
Principles and Modus Operandi
The basic principles of Contego are quality, flexibility, state-of-the-art, and a customised approach for every individual participant or small group. The teaching is conceived as interaction (uninterrupted communication, feedback and analysis of needs) between teachers and students, free from stress, thus providing a pleasant working atmosphere. Each course is similar to a project, in which teachers and students together create the content and modus operandi, the so-called Tailor Made Model (specially tailored programme in accordance with the specific and professional needs of our clients).
Our teachers use the most recent trends in language teaching, using top quality acknowledged textbooks and various relevant publications, depending on the students' interests. This creative approach treats the student not just as an object of teaching but involves him or her actively in the process of knowledge transfer and learning at his or her own pace and in his or her own way.
This approach has proved most productive and we therefore recommend teaching smaller groups as well as individual tuition (best results).